Provisional Restorations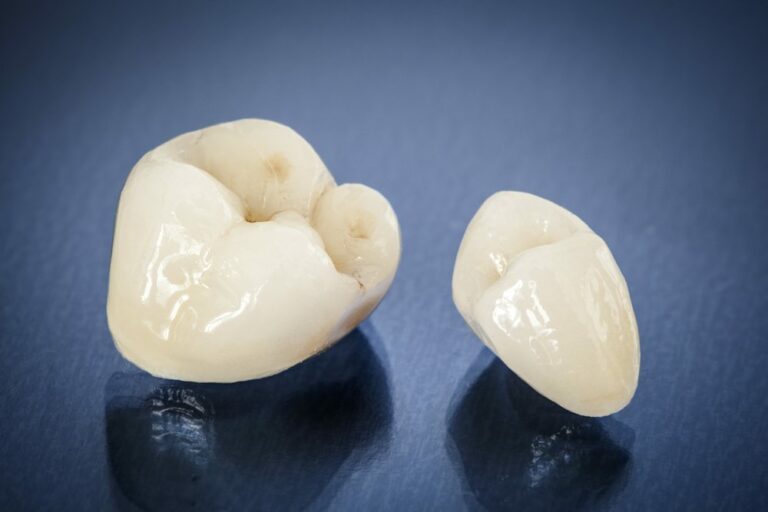 Provisional restorations are often used during complex restorative dental procedures to serve as temporary prosthetic replacements while patients wait for a permanent restoration. Provisional restorations offer patients to try-out the look and feel of the final prosthetic and make any necessary changes before the final fabrication and fitting. Unlike temporary prosthetics of the past, modern provisional restorations are highly functional and aesthetically pleasing. Today's temporaries are composed of a quality acrylic resin that mimics the look and feel of permanent metal or ceramic restorations.
Did you know…

Provisional restorations are a primary component of smile reconstructions. In addition to serving cosmetic purposes for patients with missing or damaged teeth, dental temporaries provide the following functions:

Reserving' space for the permanent restoration by preventing surrounding tooth movement
Protecting reduced natural teeth that are prepped for restorations
Preserving the health and natural contours of the gums surrounding the restoration
Protecting exposed dentin from bacteria and plaque
Preventing tooth sensitivite
Facilitating normal eating and speaking
Frequently Asked Questions
Will I need a provisional restoration during the course of my dental treatment?
You may need a provisional restoration if you are preparing to get a new crown, bridge, veneers, dental implants or some other permanent restoration. Temporaries may be put in place to ensure you are pleased with the aesthetics and fit of your new prosthetic. You may also be fit for a provisional restoration while you wait for a dental lab to finalize your permanent ones.
What should I expect when being fit for a dental temporary?
Temporaries are constructed in a dental laboratory using impressions and digital images of your teeth. The lab will produce a 'wax-up' that you will approve before the temporaries are fabricated. Your dentist will prepare your teeth for the provisional restorations and temporarily attach them to your teeth, where they will remain until you are ready for your permanent restorations.
Will I need to follow any special guidelines after receiving my temporary restoration?
You may need to wear your temporaries for just a few days or for several months depending on the type of dental reconstruction you are undergoing. Temporaries formed in place of crowns or veneers may only need to be worn for a few days to a few weeks, whereas dental implant and full-mouth reconstruction patients will need to wear provisional restorations for several months while the gums heal and the implants fuse with surrounding bone. Keep in mind that provisional restorations are less durable than permanent ones and are placed using provisional cement. Because it is possible for them to shift or become damaged, you should be careful to follow your dentist's guidelines for caring for your temporaries – including using good oral hygiene, abiding by dietary restrictions, and using protective mouth gear during sports or high impact activity.
PFM Restorations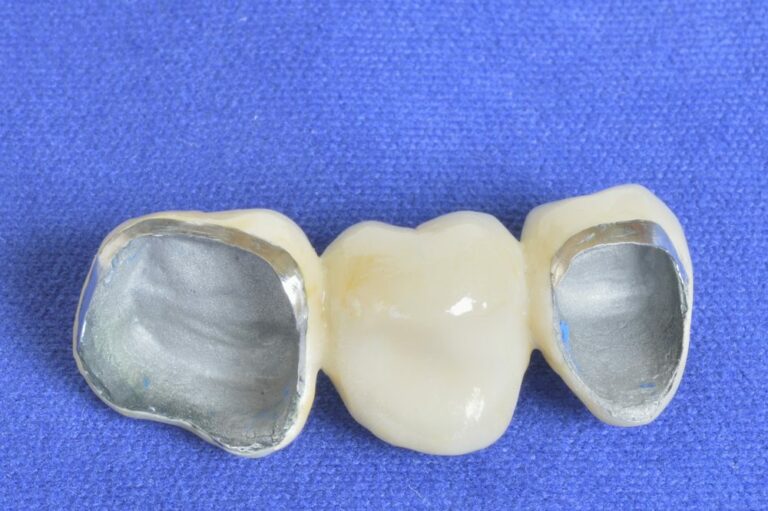 Porcelain fused to metal, or PFM restorations have been a standard in restorative dentistry for more than three decades. During that time, dentists around the world have adopted PFM crowns and bridges due to the versatility for use, as well as their ability to be matched to surrounding teeth. PFM crowns provide an excellent balance between resilience and esthetics. The underlying metal portion of the restorations provides long-lasting durability while the porcelain outer layer delivers a natural-looking appearance.
Did you know…

Dental crowns may be necessary for a number of reasons. They include:

To restore the remaining tooth structure following a root canal
To protect a tooth that is broken or damaged.
To restore a decayed tooth with too much damage to support a new filling
To anchor a dental bridge
To disguise tooth discoloration that has not responded to whitening treatments
Frequently Asked Questions
Am I a candidate for PFM restorations?
You may be a candidate for PFM restorations if you are looking for a strong, but aesthetically appealing crown or bridge. PFM is especially beneficial to patients who suffer with bruxism that could lead to the deterioration of all-ceramic restorations. To find out more about porcelain-fused-to-metal restorations, contact your dentist to schedule a consultation.
What should I expect when being fitted for a PFM restoration?
You're tooth will be prepared for your new [city] PFM restoration as your dentist gently removes the outer layer for bonding. An impression of your teeth will be made and sent to a dental lab for fabrication of a PFM restoration in a shade that matches your natural teeth. Finally, the restoration will be sent back for placement and permanent bonding.
Will I need to follow any special post-treatment care guidelines after being fit for a PFM restoration?
It is normal to experience some sensitivity to hot and cold temperatures after having a PFM restoration placed. However, this should subside, as should any soreness caused by tooth preparation. Be sure to follow the instructions provided to you by your dentist, and continue brushing and flossing on a daily basis to keep your PFM restoration clean and well cared for. Tell your dentist if your PFM crown or bridge causes you any pain of any kind or if it comes loose.
Partial Dentures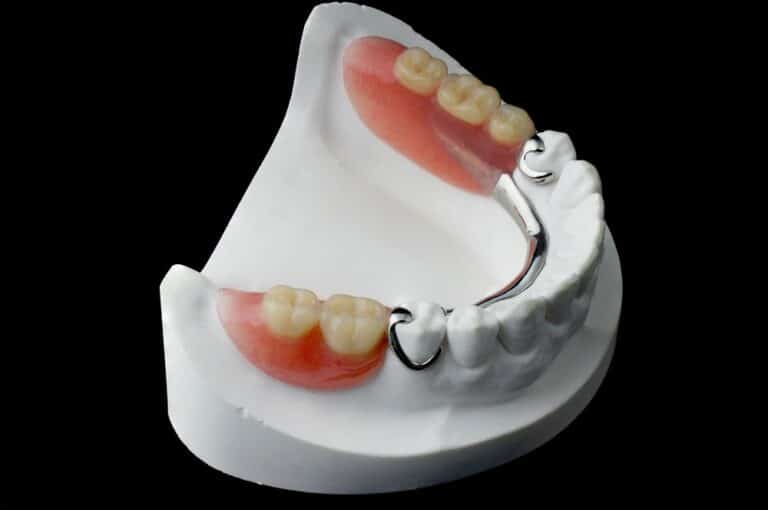 Like a bridge, partial dentures rest on surrounding teeth to fill in the gaps where one or more teeth are missing. But unlike a bridge, partial dentures are fully removable by the wearer. Partials are affordable alternatives to other types of dental prosthetics and are custom-made to blend in with each patient's natural teeth. It takes a little time to adapt to new partials, but many people find that they reclaim much of their original function and aesthetics with partial dentures in place.
Did you know?

Partial dentures require gentle care and frequent cleaning. Once you get your new partial dentures, you'll need to:

Keep them moist at all times by soaking them in a denture solution when not in use
Gently brush your dentures daily using a soft-bristled tooth brush
Be careful not to drop your partial dentures, as they may break
Avoid exposing your partial to hot temperatures that could cause warping
Frequently Asked Questions
Am I a candidate for partial dentures?
You may be a candidate for partial dentures if you have one or more missing teeth, and the space they once filled is surrounded by other teeth or permanent restorations. To find out more about whether partial dentures are right for you, schedule a consultation with your dentist.
What should I expect when being fit for partial dentures?
If you decide to get a partial denture, you'll need to visit your dentist to have metal clasps attached to your surrounding teeth and an impression made of the area your partial will fill. The impression will be sent to a dental lab, where a technician will fabricate a custom denture that includes a gum-colored base that will fit securely over your gums. A metal framework will be used to attach your new partial to the clasps on your natural teeth to ensure a secure fit.
Will I need to follow any special oral health instructions after receiving my partials?
Yes. Good oral health is still important – even if you have a few missing teeth. In addition to caring for your new dental prosthetic, you'll also need to brush your gums and tongue twice daily to stimulate circulation and remove bacteria that could cause gum disease. Continue seeing your dentist twice yearly for exams and cleanings, and be sure to bring your partial dentures along to each visit. After a few years, you may find that your partial needs to be rebased to better fit the changes to the bone structure in your mouth.
Bite Guards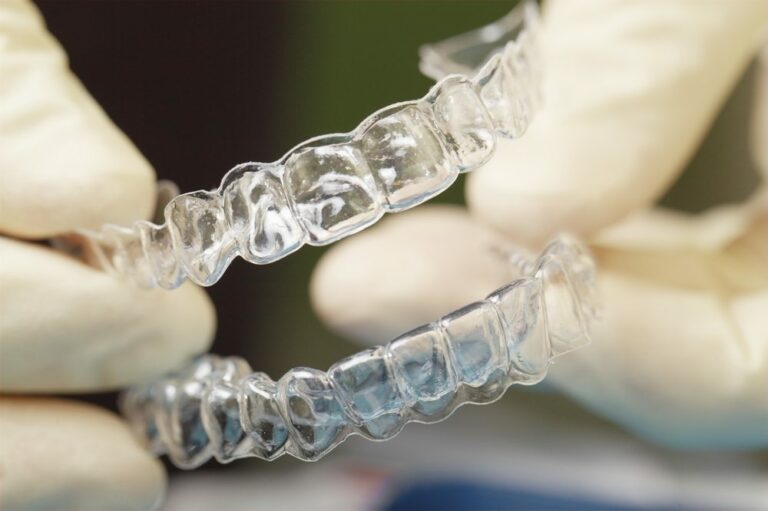 A bite guard is a dental appliance custom-fit to a patient's teeth. Bite guards serve varying purposes and are often recommended for use in patients of all ages. It is important that bite guards be professionally fit, rather than purchased over the counter, as this ensures maximum comfort and protection during wear. Professional dental guards are usually prepared in a dental lab using an oral impression taken in a dentist's office. These guards are created uniquely to each patient to prevent discomfort, slippage or inadequate protection. There are many reasons why a dentist would prescribe a mouth guard to a patient. They include:
To protect the teeth, tongue and cheeks during sports and high-impact activities
To protect the teeth from nighttime grinding or clenching
Did you know?

Caring for a dental bite guard is simple. You'll need to rinse it before and after every usage using a soft-bristled toothbrush, toothpaste and cold water. From time to time, cleanse it with cold water and a mild soap. When not in use, store your mouth guard in a hard, ventilated container and keep it away from hot temperatures that could cause your guard to warp.
Frequently Asked Questions
Do I need a bite guard?
You absolutely need to be fit for a custom bite guard if you participate in sports or activities that put your oral health at risk. These guidelines also apply to children, who often play sports like football or participate in activities like martial arts, which can cause tooth-related injuries. You may also need a bite guard if your dentist diagnosis you with bruxism, or tooth-grinding. Over time, grinding or clenching the teeth can lead to wear and irreversible damage. Sleeping with a bite guard can protect the teeth from these unwanted side effects.
What should I expect when being fit for a dental bite guard?
Being fit for a bite guard is simple. You'll visit your dentist, who will take an impression of your teeth and send it off to a dental laboratory. The lab will carefully construct a durable and comfortable new bite guard that you can pick up at your dentist's office in just days.
Will I need to return to my dentist after getting my new bite guard?
Yes. Although custom bite guards are made of durable materials and designed to last through many uses, they do need to be replaced from time to time. Keep an eye on your bite guard, checking it frequently for wear. Also, bring it with you to your normal dental cleanings and check-ups for a professional inspection. Be sure to tell your dentist if your bite guard no longer offers an optimal fit or if it has become uncomfortable to wear.
Dentures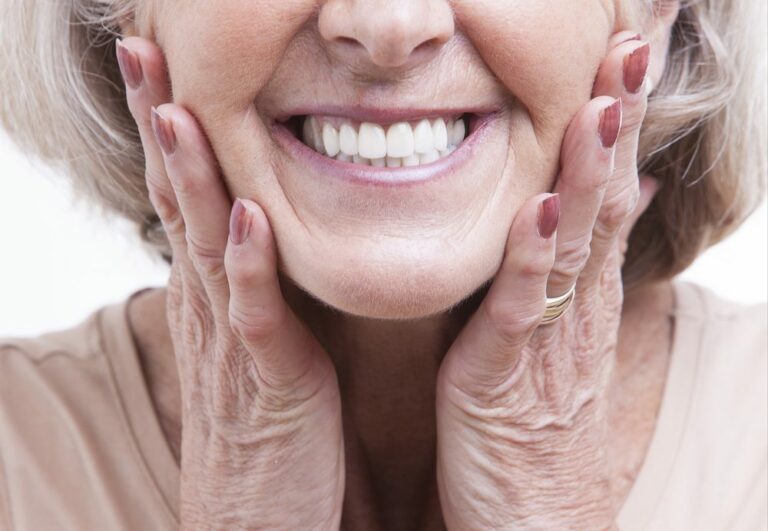 Dentures are an effective and affordable way of replacing missing teeth. Composed of a durable plastic resin and sometimes porcelain, both partial and full dentures can be fabricated to look and feel natural. Today's dentures are custom-fit to make it possible to eat foods with confidence and speak articulately. Depending on the patient's preferences and budget, dentures can be crafted for maximum comfort and fracture resistance backed up by limited warranties.
Did you know…

that more than 60 percent of American adults are missing one or more teeth? Approximately 10 percent are missing all of their teeth – requiring a prosthetic solution that will restore function and aesthetics to their smiles. Many of those dental patients choose partial or full dentures to replace missing teeth. In fact, it is estimated that 35 million Americans currently wear partial or full dentures – a number that is only expected to rise as baby boomers begin to reach retirement.
Frequently Asked Questions
Am I a candidate for dentures?
You may be a candidate for dentures if you are missing one or more teeth and are in need of an affordable prosthetic solution. Most denture wearers find that partial and full dentures can restore much of their original tooth function – not to mention create a beautiful, natural-looking smile. To find out if dentures are right for you, schedule a consultation with your dentist.
What should I expect when being fit for dentures?
If you have any decayed or damaged teeth that need to be removed, they will be extracted before your dentist takes a mold of your remaining gum structure, as well as the roof of your mouth. This mold will be sent to a dental lab for denture fabrication. When the completed dentures are completed, you will return to your dentist for a final fitting.
Will I need to follow any special instructions to care for my new dentures?
Yes. Dentures are removable prosthetics that will need to be cleaned and brushed daily. You should also brush your gums daily to prevent infections caused by bacteria. Your dentures should be kept in water when they aren't in use to prevent them from warping. Keep in mind that it may take some time to adjust to dentures as you learn how to use the muscles in your cheeks and tongue to keep them in place. But over time, you should begin to feel more comfortable with your new prosthetics.